Paneer Fried Rice
This paneer fried rice recipe is so easy to make and absolutely delicious. Made with basmati rice and vegetables of choice, it's bound to become your favourite.
When I was in living in Hong Kong, fried rice was one of those things that you could find at any night market stall or restaurant. I was a vegetarian then and the problem always was finding vegetarian fried rice. Even what was called vegetarian had shrimp and eggs. I told my friend one time and she invited me over to her place and showed me how her mum used to make it. I adopted her recipe, but changed it to my own liking.
The ingredients
My paneer fried rice is made with long grain basmati rice and fried paneer. I fry the paneer at home to get the best results.

Firstly cook 1 cup of long grain basmati rice as per directions. I use basmati rice, but you can use any kind you like. I don't like my fried rice to be sticky – although that is the traditional way of making fried rice. Let the rice cook and set aside while you prepare the rest of ingredients.
Chop a 400 gram package of paneer into 1 inch cubes. Heat 4 tablespoons of vegetable oil in a wok or a large frying pan and pan fry the paneer till it's browned – for about 8 or so minutes. Remove from the pan and set aside.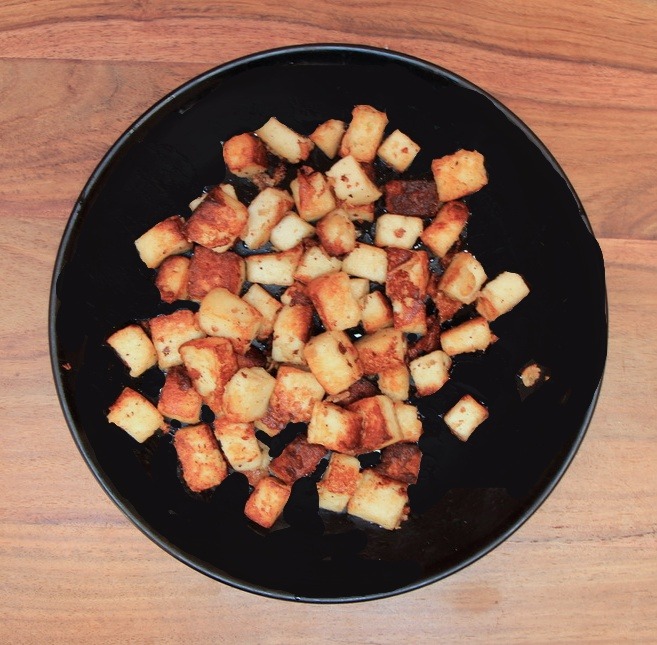 Slice one large red onion and grate about 1 inch slice of ginger. Once the paneer is done, without cleaning the wok, put the sliced onion and ginger into the same wok. Cook them for about 5 mins. The onions will soften up and start to brown.
Clean and roughly chop one 500 grams package of organic Umami mushrooms (or any mushrooms of choice). Add them to the wok and toss just to mix.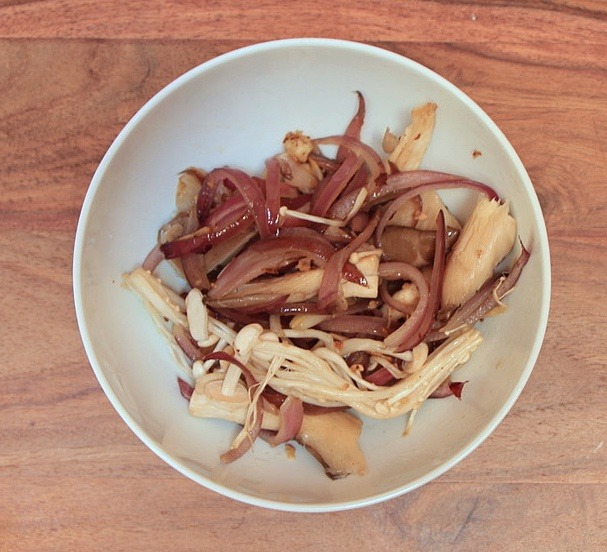 Grate two large carrots and add those to the pan. Toss to mix well and cook for about 2 mins. The crunchiness of the vegetables is what makes the fried rice so delicious.
Once the carrots are cooked, add 1 cup of thawed frozen corn and cook for another 2 mins. I usually remove the corn from the freezer just when I start the rice cooking. Rice takes about 20 mins to cook and that gives the corn enough time to thaw out. You don't want to use frozen corn, because then it will reduce the temperature of the rest of the vegetables and we don't want to do that.
Making the fried rice
Now that all the vegetables are cooked, we are ready to season them. Add 4 tablespoons of dark soy sauce to the pan and mix well so that all the vegetables get coated. Sprinkle 1 tablespoon of white pepper into the pan. This is a crucial ingredient for fried rice. It's what gives the rice the most flavour. It is a used in a lot of Chinese cooking. The flavour of white pepper is quite different from that of black pepper.
Now we can add the rice to the mix. Add 2 cups of the cooked rice to the wok and mix well to combine. You do not want to see any white rice once you have finished mixing. You want to see all of it coated with the delicious soy sauce and change colour to a light brown.
Once that is done you can add the paneer to the rice and mix well so that he paneer is evenly spread. At the same time, you can add 1 tablespoon of sesame seed oil. Sesame seed oil is another crucial ingredient in Asian cooking. It has a very distinctive and aromatic flavour.
Chop your green onions and mix two thirds of them into the rice. Save a third for sprinkling on top of the rice when you serve.
Sprinkle some sesame seeds on your plate of fried rice. Enjoy as a main course with a side of fried green beans, garlic snow peas or bok choy.
Paneer Fried Rice
Course: Main
Cuisine: Chinese
Difficulty: Easy
Ingredients
2 cups of cooked long grain basmati rice

400 gram package of paneer

4 tablespoons vegetable oil

1 large red onion – sliced

1 inch of ginger – grated

1 – 500 gram package of organic umami mushrooms – roughly chopped

2 large carrots – grated

1 cup of frozen corn – thawed

4 tablespoons gluten free dark soy sauce (or Mirin)

1 tablespoon white pepper powder

1 tablespoon sesame seed oil

3 green onions sliced (divided)

1 tablespoon of sesame seeds for sprinkling on top (optional)
Directions
Cook the basmati rice as per directions. 1 cup of uncooked rice will yield 2 cups of cooked rice.
Remove the corn from the freezer and thaw it.
Cut the paneer into 1 inch cubes. Heat 4 tablespoons of oil in a wok or large frying pan and pan fry the paneer for about 8 mins. Remove from the wok and set aside.
In the same wok / pan, add the onions and grated ginger. Cook for about 5 mins.
Add the umami mushroom and toss to mix.
Add the grated carrots and mix. Cook for about 2 mins.
Once the carrots are cooked, add the thawed corn and mix to combine.
Now you can add the flavouring. Add the soy sauce and mix well. Once the soy sauce is mixed well, add the white pepper and mix well.
Add the cooked rice and mix well. There should be no white rice visible any more. It should all be light brown in colour.
Add the paneer and mix so it's evenly distributed.
Add 2 green onions to the wok and mix into the fried rice.
Plate the rice and sprinkle with sesame seeds and the remaining green onions.
Enjoy on it's own or with a side of fried green beans, garlic snow peas or bok choy.
– Check out other Entree recipes here.
– Please remember to follow me on Facebook, Pinterest, and Instagram.