Ricotta Blintzes With Raspberry Compote
Blintzes are soft crepes filled with ricotta and served with a fruit compote. Try these for your next Sunday breakfast.
We love ricotta blintzes with raspberry compote in our house. I tend to make them once every three weeks or so. I have tried them with various fruit compotes such as peach, pear, apple, and mixed berry. The kids always request extras so they can have some the next day too.
Raspberry compote
The tartness of the raspberries goes so well with the sweetness of the crepe filling. It's a match made in heaven.
In a small saucepan, combine the 2 cups of raspberries (fresh or frozen), the 2 tablespoons of sugar, salt and 1/2 teaspoon of cinnamon (if using). Bring the raspberry mix to a boil and let simmer for 5 mins on a low heat. The raspberries will let out a lot of fluid when they are heated, so the compote needs to be thickened.
In a small bowl, combine the water and corn starch to form a paste. Corn start reacts to heat and thickens, so make sure the water you are using to mix the cornstarch is cold. Pour this paste into the raspberry mix and stir well. Let cook for a min. This will help the raspberries thicken and become a little jammy. Turn the heat off and set aside, or turn the temperature to the lowest possible and let the pan sit there to keep the compote warm.
Making the ricotta blintzes filling
In a small mixing bowl, combine the 475 grams of ricotta, 1/4 cup sugar, 1 egg yolk and 1/4 up of raisins if using. Raisins are sweet, so make the filling sweeter. If you are not using raisins, you can add more sugar, so that the filling is sweeter. Alternatively, you can use dried cranberries. Those taste delicious too and they are every so slightly tart, and mixed with the sweetened ricotta taste great.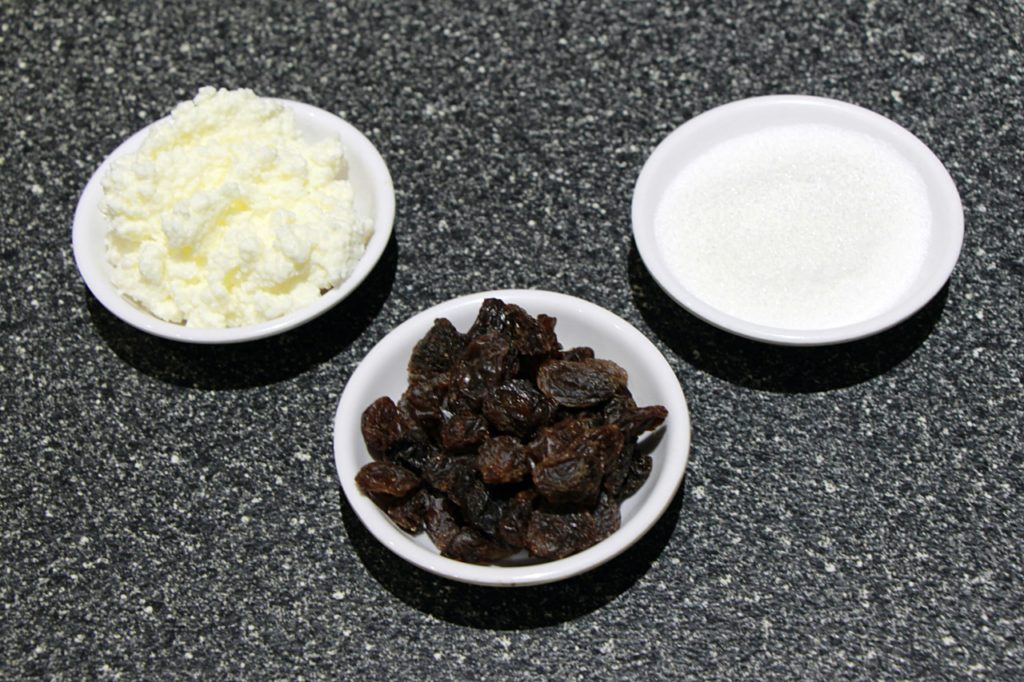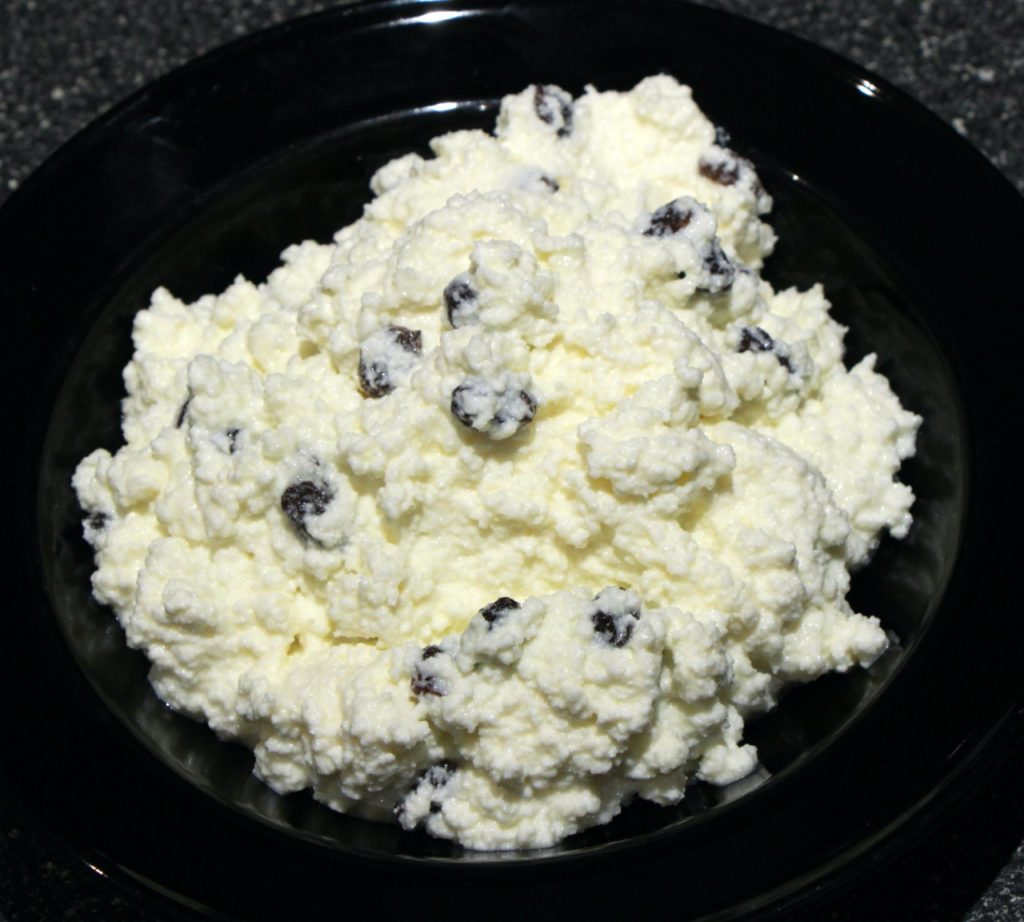 Set the filling aside and make the batter for the crepes.
Crepe Batter
In a large mixing bowl, combine the 2 cups of gluten free flour and salt. In a separate bowl, combine the 4 eggs, 1 1/2 cups of milk and 1/4 cup of oil. Pour the wet ingredients into the dry and mix well to form a batter.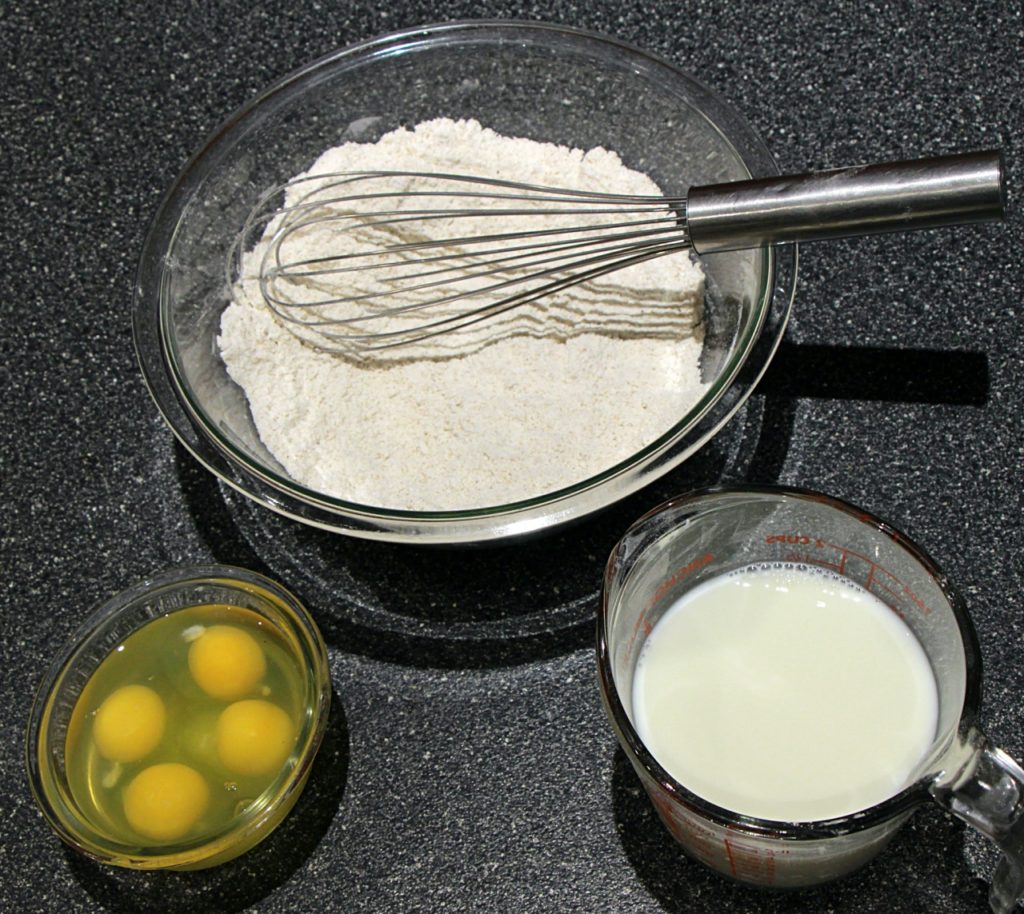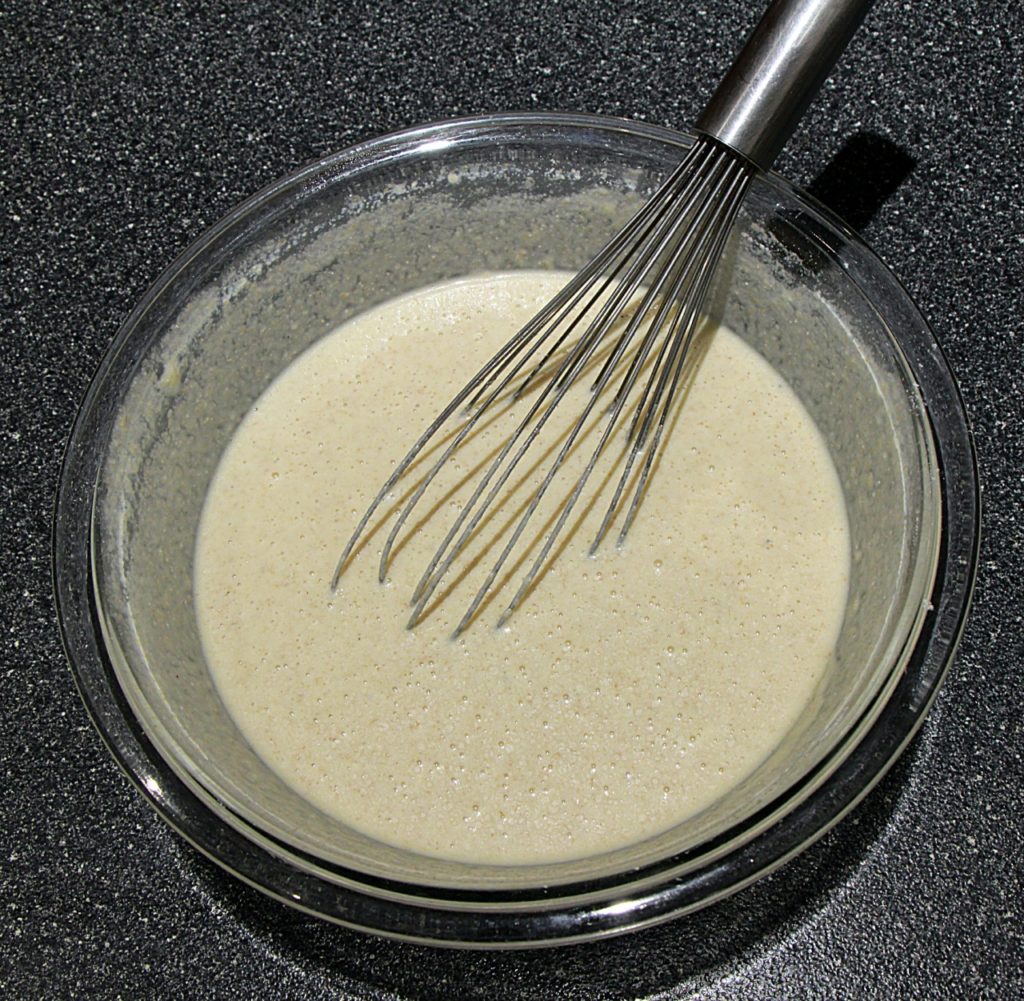 Making the ricotta blintzes
Warm a skillet or non-stick pan over low medium heat. Pour one ladleful of batter on the skillet or non-stick pan and spread the crepe batter. There is no need to butter the pan for this recipe. The batter has enough oil in it, so no additional oil or butter is needed.
You will know the crepe has cooked once it starts to change colour and the liquid starts to evaporate. Once the crepe cooks on one side, flip it over. As soon as you flip the crepe, spoon about 3 tablespoons of the ricotta cheese crepe filling into the middle of the crepe and fold it into an envelope.
To fold the ricotta blintzes into envelops, fold one side of the crepe towards the middle, turn and fold the opposite side towards the middle as well, Now turn 90 degrees and fold the third side towards the middle. Finally fold the last side and you will have your pillow.
Continue to do this till all the batter and filling has been used up. Serve with compote on the blintzes or on the side. Enjoy them warm. If you have any batter left over, continue to cook and enjoy them with a sprinkle of sugar and a drizzle of fresh lime or lemon juice.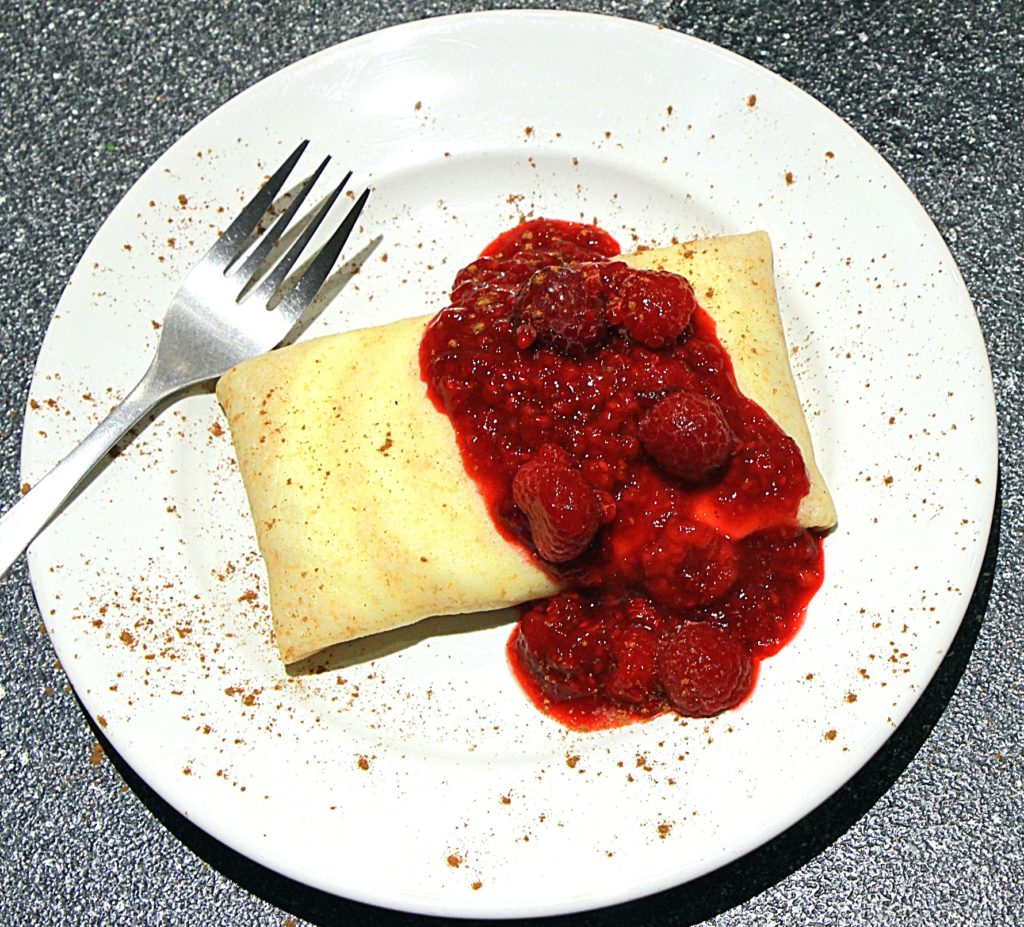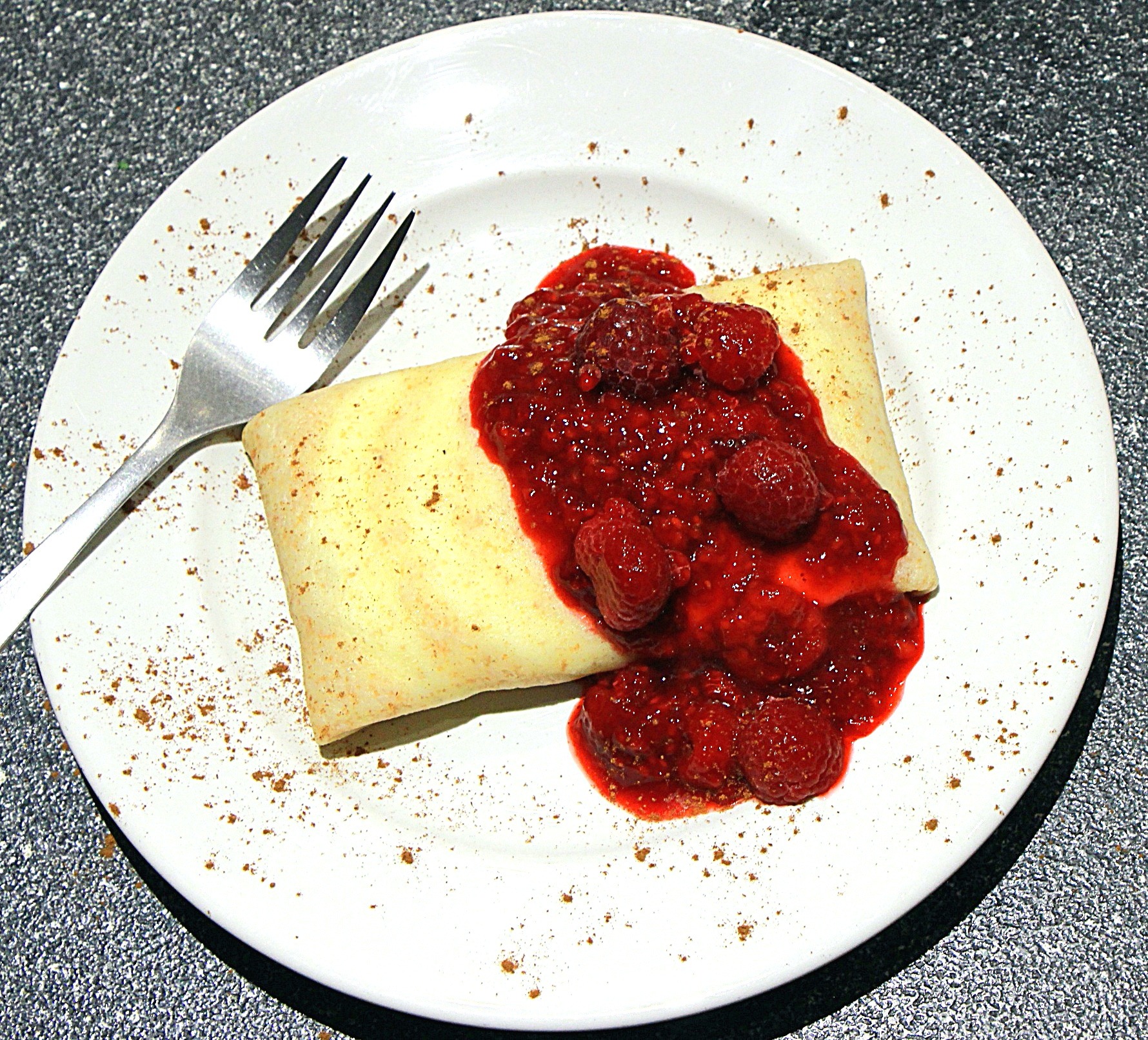 I often enjoy the crepes plain – sprinkle some castor sugar and squeeze a tiny bit of lemon or lime. Roll it up and bite into it like a log. They taste so delicious.
Ricotta Blintzes With Raspberry Compote
Course: Breakfast
Cuisine: European
Difficulty: Medium

Blintzes are thin soft crepes filled with ricotta cheese and folded.
Ingredients
For Raspberry Compote

2 cups fresh or frozen raspberries

2 tablespoons castor sugar (add more if you prefer a sweeter compote)

a pinch of salt

1/2 teaspoon cinnamon (optional)

1 tablespoons cold water 1 1/2 if using frozen berries)

1 tablespoon corn starch (1 1/2 if using frozen berries)

For Crepe Filling

1 475 gram package of ricotta cheese

4 tablespoons castor sugar (add more if you prefer a sweeter filling)

1 egg yolk

¼ cup of raisins (optional)

For Crepes

2 cups gluten free flour. (I make my own using 1 cup brown rice flour, 1/2 cup tapioca flour and 1/2 cup spelt flour).

¼ teaspoon salt

1 ½ cups of plain milk

4 eggs

4 tablespoons of vegetable oil

1 teaspoon pure vanilla
Directions
Compote
Peel, core and cut the apples into bite size pieces.
Place the apples, sugar and 2 tablespoons of water into a saucepan and cook over low heat for about 10 mins. Stir occasionally.
Once the apples have cooked there will be liquid in the pan.
In a small bowl, mix the corn starch and 2 tablespoons of cold water to make a paste.
Mix this paste into the apples and cook for a further 2 mins. This will help the apples thicken up.
Notes
– For gluten free blintzes, replace regular flour with gluten free flour.
– These crepes can also be used for a savoury crepe dinner (recipe coming soon). Or for a dessert with ice cream and chocolate sauce with some fresh fruit.
– Check out other breakfast recipes here.
– Please remember to follow me on Facebook, Pinterest, and Instagram.