Perfect Creamy Indian Rice Pudding – Kheer
This creamy Indian rice pudding is flavored with cardamom and saffron. It is a dessert that is so aromatic, delicious, and satisfying that you will go back to it over and over.
Creamy Indian rice pudding is one of those things that you find in every Indian home, no matter where in the world you live. I grew up on this. My mom would make kheer often and it was one of those desserts that was served to guests. She would even make it for pot lucks, dinner parties, birthdays, etc. Everyone that I know of loves this dessert. It's comforting and always reminds me of home and growing up.
It was one of my dad's favorite desserts and he taught me how to make it. It was in fact, one of the first desserts I ever learned how to make. Whenever I make this rice pudding at home, the kids know right away that it's cooking. The house smells delicious and they can hardly wait for it to be ready.
Ingredients for creamy Indian rice pudding
Indian rice pudding only has 6 ingredients. Don't let that fool you. Just because it has basic ingredients doesn't make it a simple dessert. It's complex and has many layers of flavors.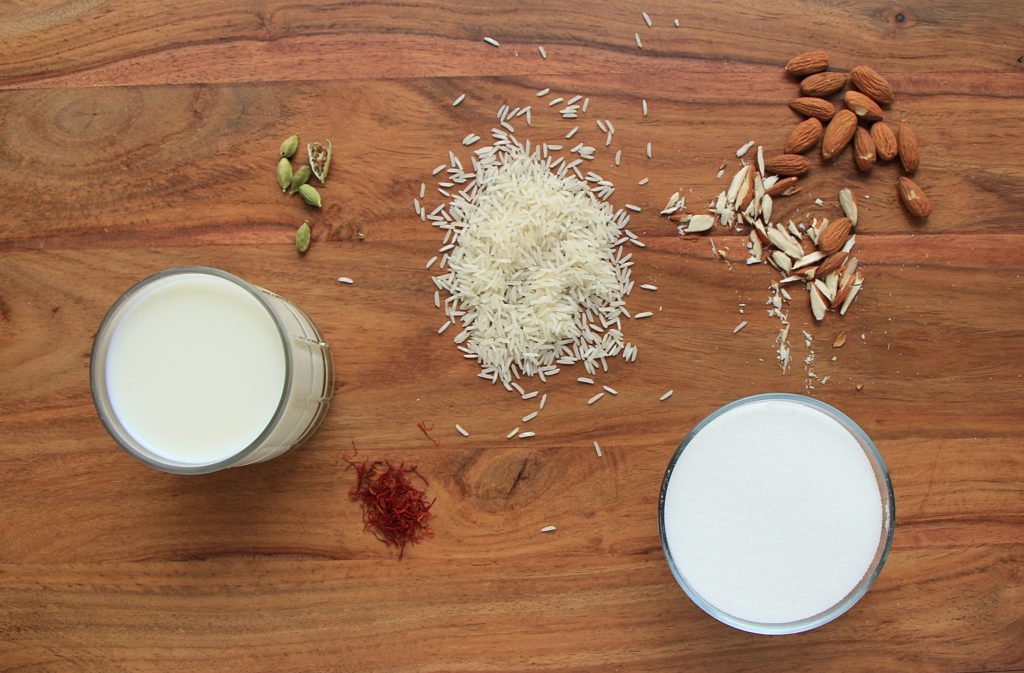 In a large heavy-bottomed saucepan, pour 2 liters of whole milk and one and 1/4 cups of basmati rice. The pan has to be heavy-bottomed. Milk tends to burn very quickly and easily, so using a regular pan will not be the best idea. I use a dutch oven pan when I cook my rice pudding.
Bring the milk and rice to a boil on medium heat. The other thing to remember when making rice pudding is that you need to constantly stir the pot. So, while the milk and rice are boiling, stir the pot. This helps with two things. One, it helps prevent the milk from burning, and two, it helps ensure that the rice doesn't clump up.
While the milk is warming up and getting ready to boil, in a small bowl, add two tablespoons of water. To this bowl, add one teaspoon of saffron. Let it sit for a couple of mins and you will see the saffron start to soften and the water turn a beautiful golden yellow in front of your eyes. Saffron has an amazing flavor and I never make my creamy Indian rice pudding without it.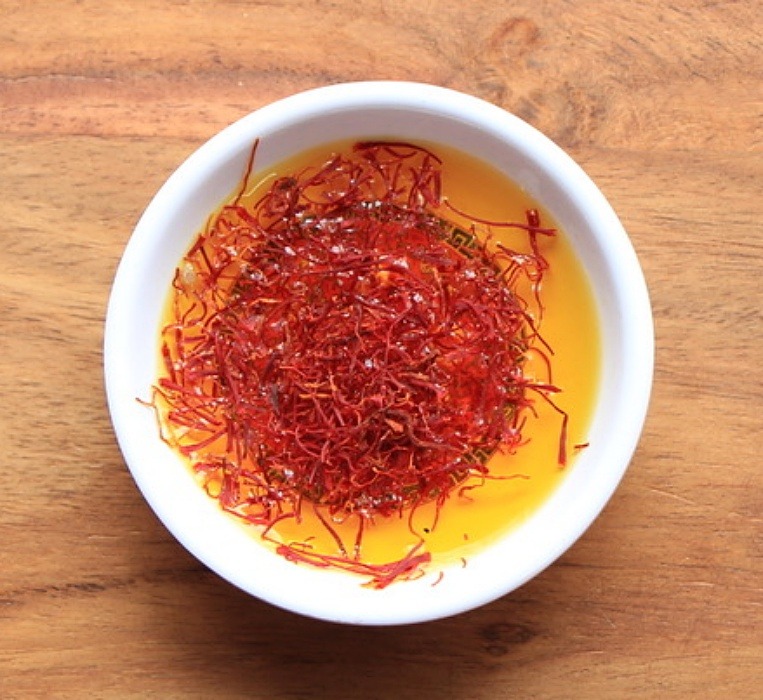 Add this saffron mix to the pot with the milk and rice. At the same time, add the seeds from five green cardamom pods and 1/2 cup sugar. I usually grind the seeds in a mortar and pestle, but you can put them in whole. My kids don't like the taste of the whole seeds, so I grind them a bit.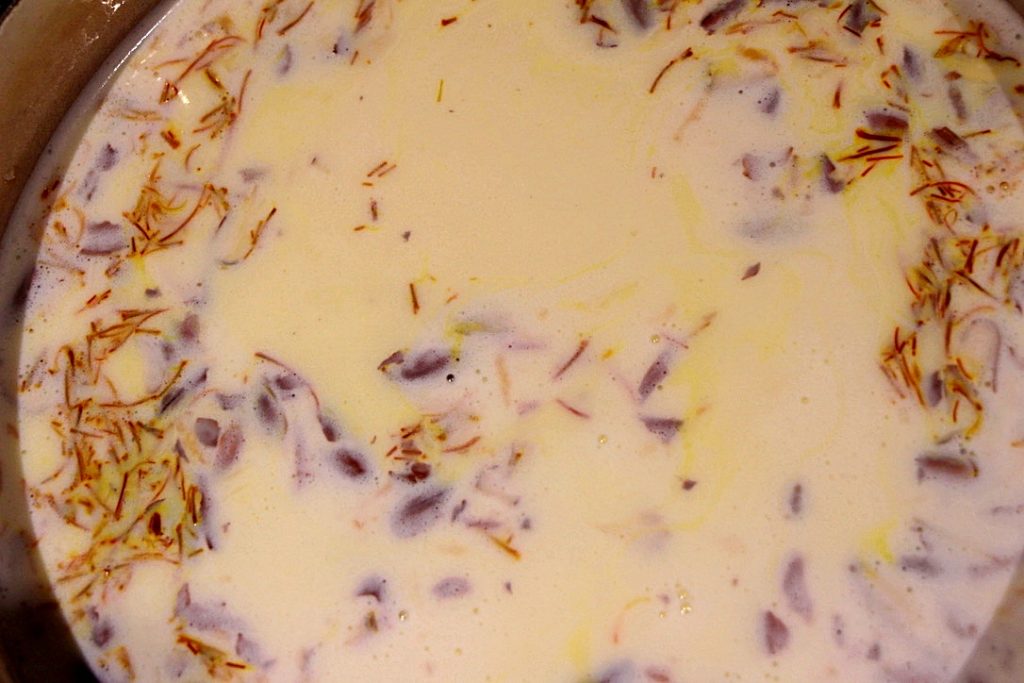 Once the milk boils, turn the heat down to a low and let the magic begin. It has to cook for about 2 hours on a low heat and you have to continue to stir every few mins. Rice pudding takes patience to make, but the end result is so worth it.
Once the rice pudding starts to thicken, add 1/3 cup of slivered almonds. I use whole almonds and chop them using a sharp knife. But you can use store-bought slivered almonds instead.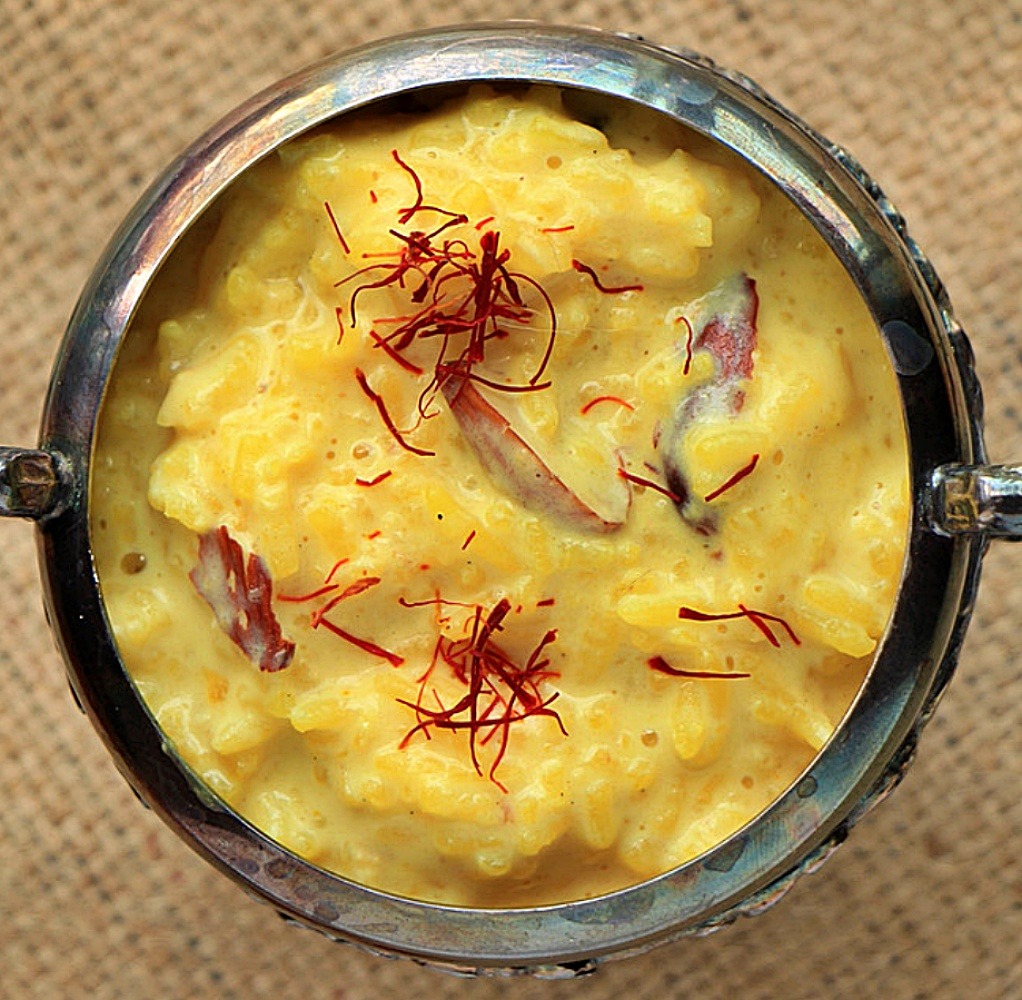 Once the creamy Indian rice pudding is ready, you can enjoy it warm or cold. We all like it cold, so I make it and let it cool down for a bit then put it in the fridge and eat it cold. To serve, sprinkle some more slivered almonds on it and you will be popular with the home crowd and guests alike.
Indian Rice Pudding – Kheer
Course: Dessert
Cuisine: Indian
Difficulty: Easy
Total time
2
hours
5
minutes
This creamy and aromatic Indian rice pudding is flavored with cardamom and saffron. It is a dessert that is so delicious and satisfying that you will go back to it over and over.
Ingredients
2 litres whole milk

1 1/4 cups basmati rice (or any long grain rice)

5 pods of green cardamom

1/2 cup sugar (or more a per taste)

1 teaspoon saffron

1/3 cup slivered almonds
Directions
Pour the milk and rice into a heavy-bottomed medium pot. Bring the milk to a boil. Stir constantly.
Lower the heat to a medium low and add sugar and the whole cardamom pods. Crack the pods open to allow the seeds to fall out. If you don't like cardamom seeds, you can use 1 teaspoon of ground cardamom powder instead.
Pour 1 tablespoon of water into a small bowl and add the saffron into it. Mix well and set aside for 5 mins. Allow the saffron to seep into the water. Add this to the pot with the rice and milk.
Add the almonds to the pot. Reserve a few to decorate with before you serve if you like.
Continue to cook for 2 hours on a low heat. Keep stirring constantly.
Serve warm or cool completely in the fridge overnight and enjoy.
– Check out other Dessert recipes here.
– Please remember to follow me on Facebook, Pinterest, and Instagram.