Restaurant Style Chicken Curry
Delicious restaurant style chicken curry that you can enjoy with home made naan or rice or both. I make a double batch and turn the left over chicken curry into wraps for the next meal and the family loves them.
What's not to love about chicken curry, especially on a cold day. I love making curries of various types.
When I was in school, one of my classmates came up to me one day and said "Hey Deepti, you are of the Indian background, you must make a mean chicken curry! How about you make me some?". I knew how to make a curry, but since I was a student and new to the country, I hadn't managed to gather all the ingredients, much less know where to find Indian groceries / spices yet. I told him I wasn't sure I could make him any. He insisted on me making it for him, so after giving him fair warning, I made some sort of a "curry". No Indian spices = bad curry!
I knew it wasn't what was expected. He took it and said he was very excited to try it. The next day he comes to me and says "What was that crap?? I was SO disappointed!! It was not at all chicken curry!!" Like I hadn't warned him already! Ha!
Gathering the spices
Making restaurant style chicken curry is quite simple. Chop one large red onion into small pieces (Red onions are more flavourful and also help in the colour of the curry). Seed and chop one jalapeno chili, chop 2 cloves of garlic and grate the 1 inch ginger. Grating ginger is a sure way of ensuring it gets combined really well into the curry and you don't get chucks of it as you eat.
In a medium sized pan, heat the 2 tablespoons of vegetable oil and add 1 teaspoon of whole cumin seeds. Let the cumin seeds pop and get fragrant, then add the cut onion, garlic and seeded chopped jalapeno and cook for 6-7 mins. Once the onions have softened add the grated ginger. If you add the grated ginger right when you add the onions, it tends to burn so you have to wait for the onions to soften first.
In a small bowl, combine 1 teaspoon of cumin powder, 1 teaspoon of coriander powder, 1 tablespoon of paprika, 1 tablespoon of garam masala, and 1 teaspoon of turmeric.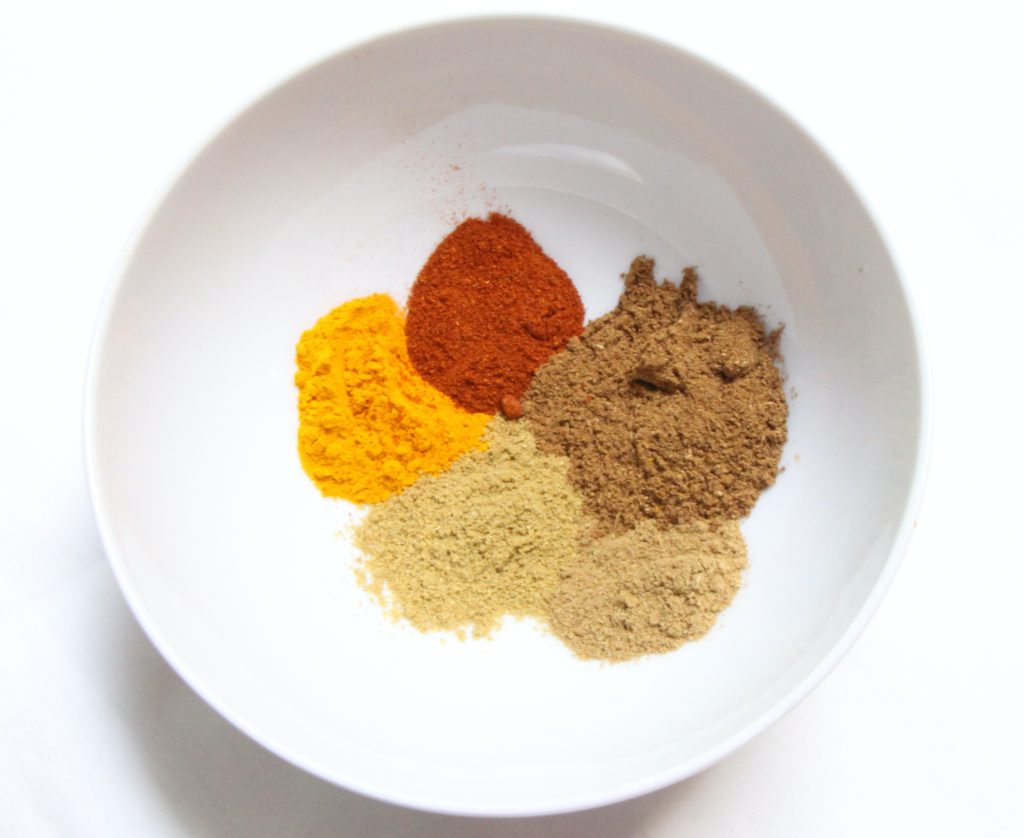 Add two tablespoons of water and mix well and add to the pan. Cook for 1 min. If you add dry ingredients into the pan, they tend to burn, so adding a little water to the mix before you put them into the pan ensures the dry ingredients don't burn.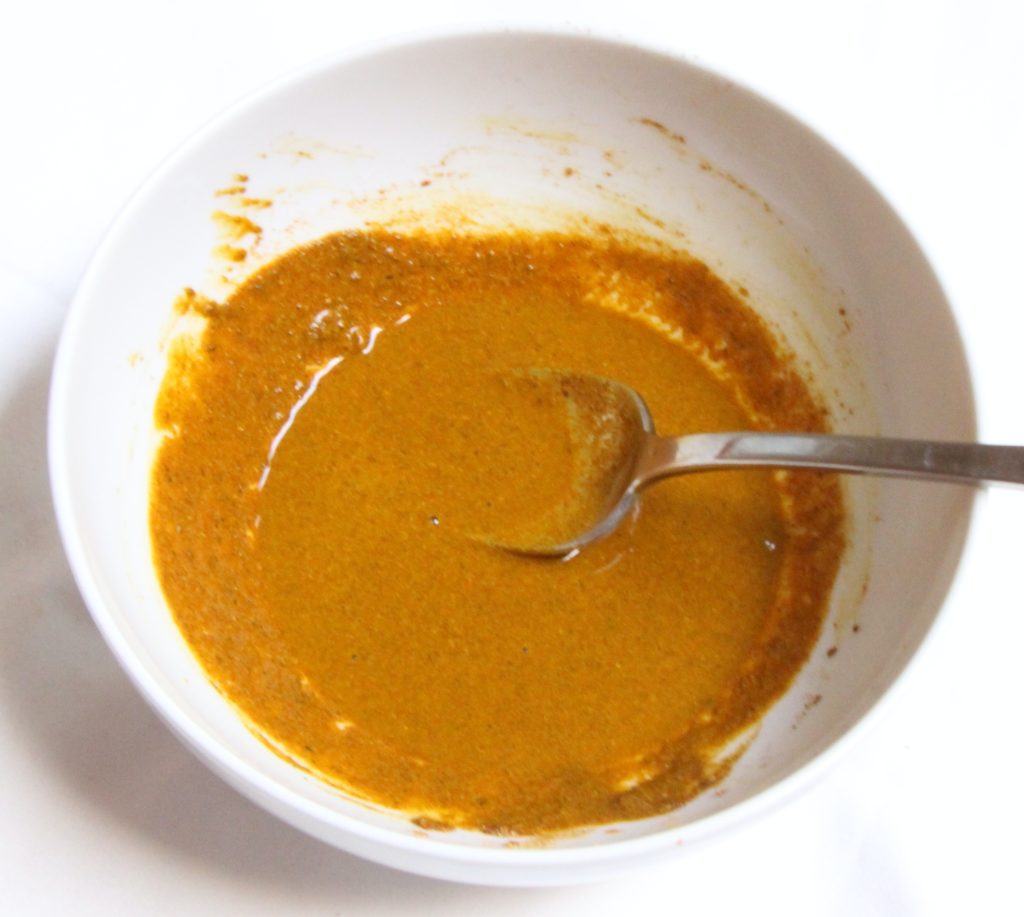 Add three tablespoons of tomato paste to the pan and mix well. Let cook for a further 2 mins. You will see the oil separate a slight bit. When this happens, you know that tomato paste has combined really well into the masala and is ready for the chicken.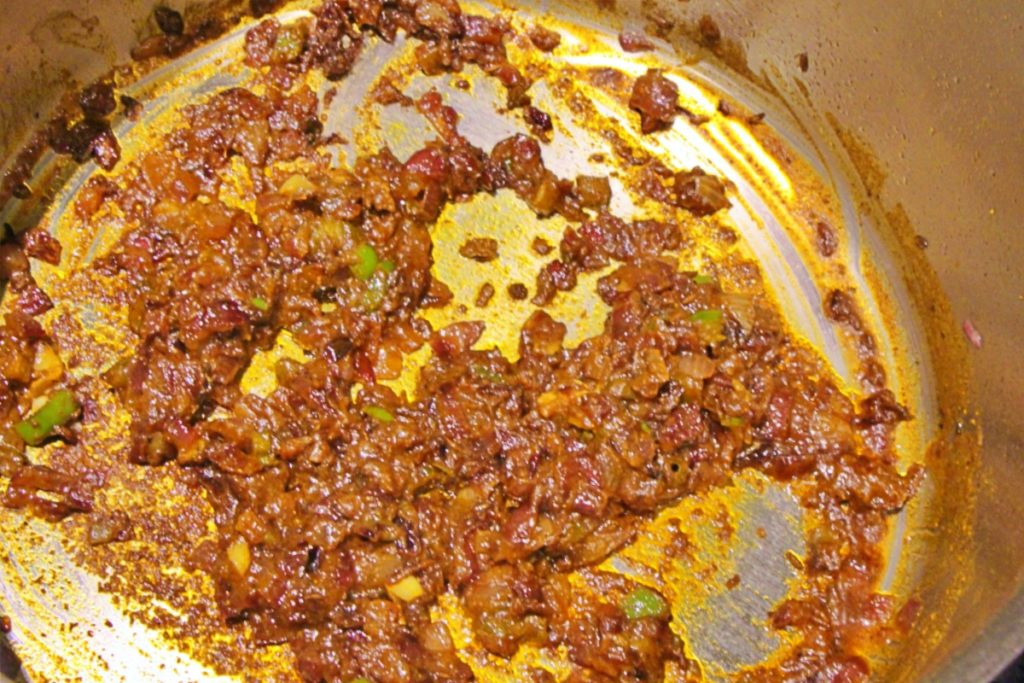 Adding chicken to the masala
Add the chopped chicken breast to the pan and cook for another 2 minutes. Adding the chicken to the masala before you add water ensures that the chicken gets well coated and each piece of chicken tastes the same. In my family, boneless chicken is just as popular as chicken on the bone. I add chicken drum sticks to the mix. If you use chicken on the bone, add that to the pan and let cook for about 10 mins before your add the boneless chicken. This allows the bigger bone in chicken to cook well.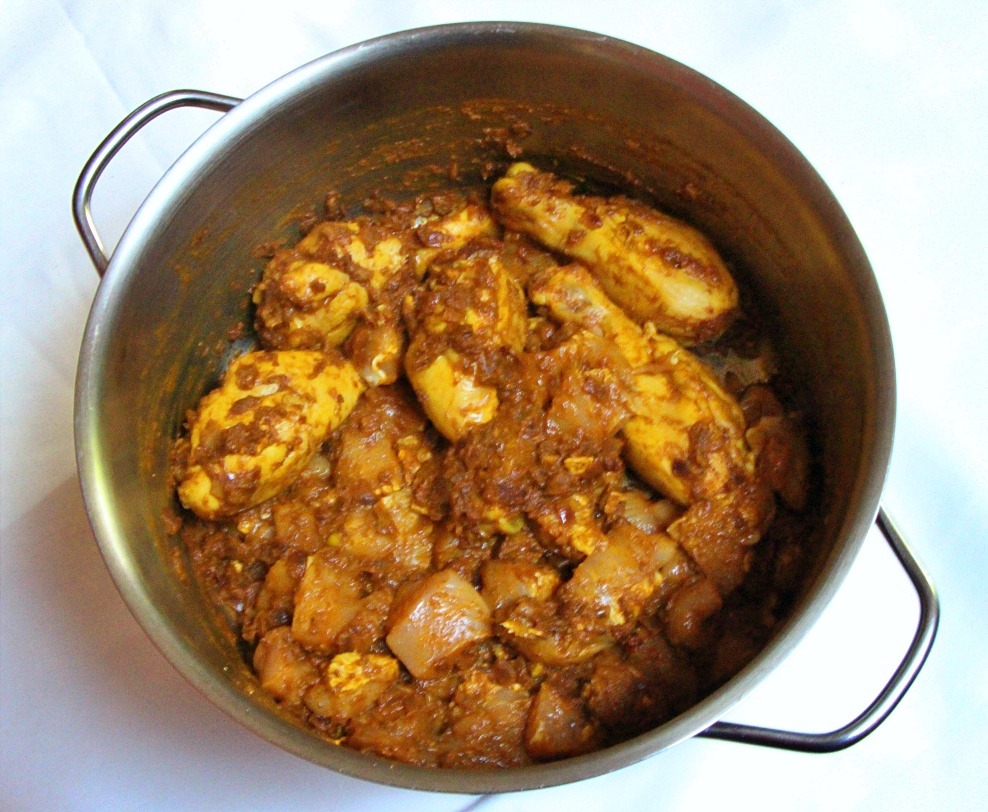 Add 1 cup of water to the pan and let it cook on medium-low heat for 12-15 mins. The low temperature will allow the chicken to absorb the flavours.
Serving the chicken
Once the chicken has cooked through, add some butter or clarified butter (optional) and garnish with fresh coriander leaves. Serve with warm fresh home made naan. (Recipe coming soon).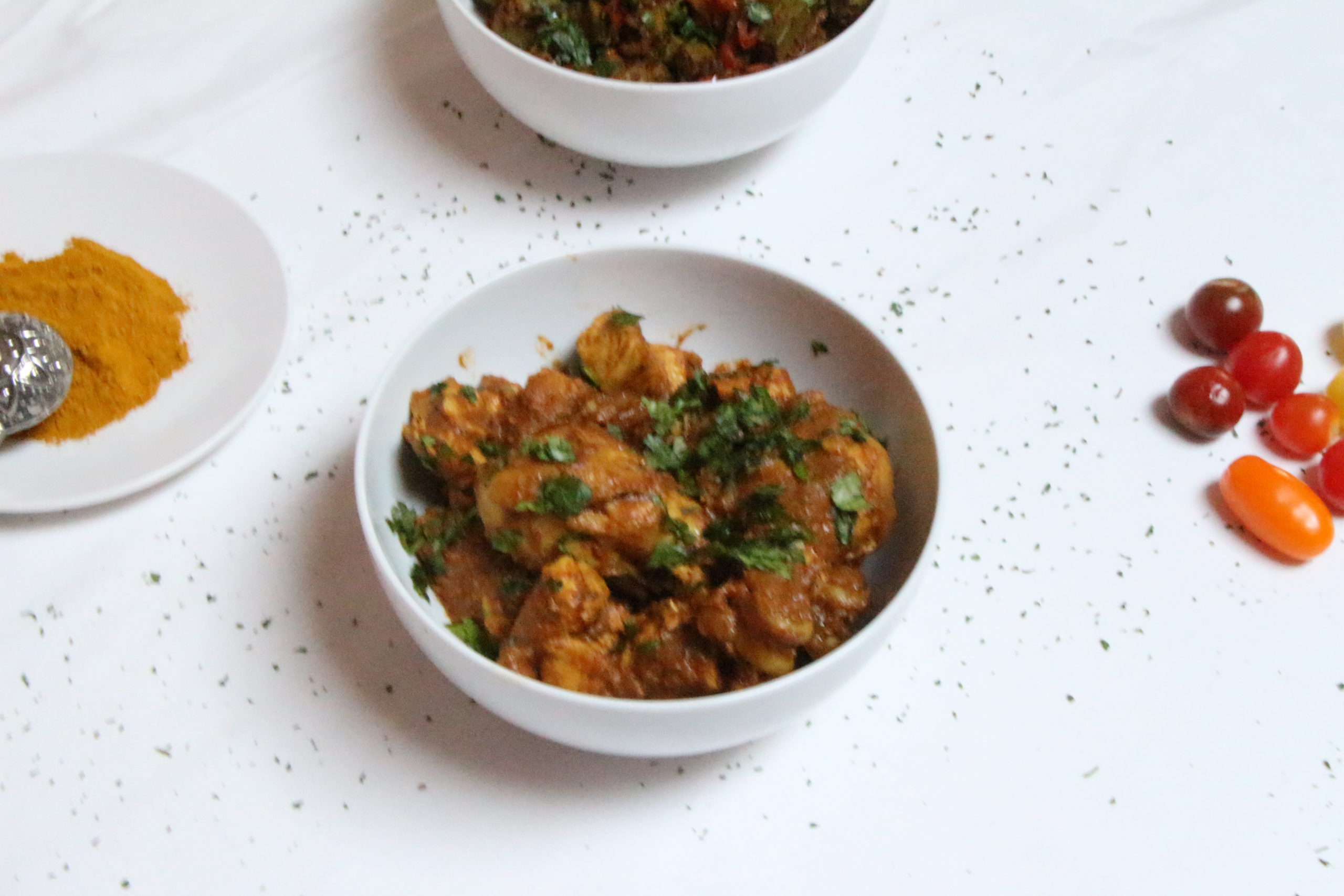 Restaurant Style Chicken Curry
Course: Main
Cuisine: Indian
Difficulty: Easy
Ingredients
2 large boneless chicken breasts

2 tablespoons vegetable oil

1 large onion

1 jalapeno pepper

2 cloves garlic

1 inch fresh ginger

1 teaspoon whole cumin seeds

1 tablespoon paprika

1 tablespoon garam masala

1 teaspoon of turmeric powder

1 teaspoon ground coriander

1 teaspoon ground cumin

3 tablespoons tomato paste 

Salt to taste

1 cup water

1 tablespoon butter (optional)

Fresh coriander for garnish
Directions
Cut the chicken breast into bite size pieces and set aside.
Finely chop the onion, garlic and ginger.
Seed and finely chop the jalapeno chili.
Place a pan on medium and heat the oil. Toss in the whole cumin seeds and let them pop.
Place the onion and garlic and jalapeno into the pan and cook until almost brown 6-7 mins.
Add the ginger and cook for a further 2 mins. At this point your entire kitchen will smell very fragrant.
While the ginger is cooking, In a small bowl, combine the paprika, garam masala, turmeric powder, ground coriander, ground cumin and 2 tablespoons of water.
Put the spice mix into the pan and stir well. Cook for about 1 min.
Add the tomato paste into the pan and cook for about 2 mins.
Add the chicken into the pan, stir well so that the chicken is well coated with the masala. Cook for 2 mins.
Add the remaining water into the pan and stir well. 
Cook the chicken for about 12-15 mins on a low heat.  
Add butter if using and mix well.
Garnish with fresh coriander and serve with fresh home made naan.
Notes
-You can cook the curry down or leave it "soupy" if you prefer. If you prefer a more "soupy" curry, you can add an extra ¼ cup of water in step 11.
– You can use a mix of boneless breast and drumsticks or chicken thighs on the bone. If you choose to use chicken on the bone, add the chicken into the pan in step 10 and cook for 7-8 mins before adding the boneless chicken. This will ensure that the chicken on the bone and the boneless chicken will cook evenly.
– Check out other Entree recipes here.
– Please remember to follow me on Facebook, Pinterest, and Instagram.